Another year nearly done and dusted. Once again 12 months have just flown by in a flurry of semi coherent moments. I am, as ever, thankful for my family and friends.
With the exception of books, which I'll waffle a bit about soon over on The Eloquent Page, there have been bucket loads of great entertainment this year. Here are just a few of my personal highlights*
Music
I have what can best be described as eclectic tastes when it comes to tunes. I listen to a ton of soundtracks but love bands as well. My top five for 2014?
Royal Blood – What a RAWK-tastically awesome self-titled debut album. 32 minutes and not a duff second among them.
Assassin's Creed: Black Flag by Brian Tyler – There are some fantastic game soundtracks out there. I love that the same level of detail that is spent on things like game play and graphics is being spent on the music that accompanies it.
Gloryhammer – Tales From The Kingdom of Fife – Mad as a bag of hammers and all the better for it. The Unicorn Invasion of Dundee is sublime lunacy. In order to pull off daft you have to do it well and these guys know it. I'm mightily impressed.
The Last of Us by Gustavo Santaolalla – Another game soundtrack. I hold this entirely responsible for me actually buying a PS4 and the game. Hauntingly evocative stuff. Just blissfully good.
TV
The Flash – A perfect companion show to Arrow. I love how Barry revels in his abilities. I was discussing it with MadNad and she prefers Arrow, she likes things a bit darker than me. She did agree however that Flash is entertaining. The Man in the Yellow Suit in particular was a stonking episode. The crossover episodes with Arrow were great fun as well.
The Walking Dead – The end of the world just keeps getting darker and darker. Cannibals, corrupt cops and some nice morally dubious decisions. Great stuff. I've noticed every week MadNad taking copious notes. I'm sure she'll be prepared when the inevitable zom-poc arrives.
Vikings – Oh Ragnar Lodbrok you just want it all don't you? Lets see if you cant get it. Well played History channel, well played.
The Musketeers – Cheesy I know but I adore a bit of cheese. Second season is imminent. I look forward to it buckling my swash. It is the facial hair, I am ALL of the jealous…and the hats.
Dr Who – I was never in any doubt. Capaldi is a perfect fit. The Tardis is in safe hands.
Film
We've managed to devour over 135 films this year. Most have been pretty damn good and there have been a couple of real standouts.
The Imitation Game – This was MadNad's choice and I'll admit that I had zero expectations when we went to see this at the cinema. I was more than pleasantly surprised, I loved it.
Guardians of the Galaxy – Marvel know exactly which buttons to press when it comes to summer blockbusters. Damn them and their pelvic sorcery!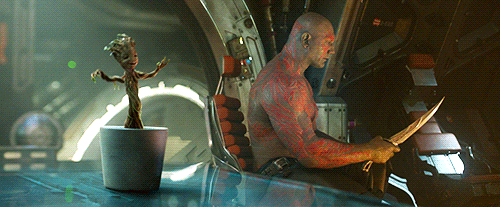 Nightcrawler – Jake Gyllenhaal being all sleazy and shit. Dark as hell and all the better for it.
Interstellar – Christopher Nolan appears to be quite a divisive figure in many circles. Personally I'm a fan. I've liked all of his films and this was no exception. I suspect this is the sort of movie that will require multiple viewings. I've only seen it once so far but have no doubt I'll watch it again. Nolan's like a cinematic onion (honestly, that is a compliment)
Captain America: The Winter Soldier – More Marvel, more explosions. Nuff' said.
So there you have it some of my entertainment highlights for 2014, the year I turned forty (please note my mental age is still roughly fifteen. I dont expect that will ever change).
I reckon 2015 is already shaping up to be interesting. There are various plans afoot in the Cheesecake household that are bound to create a certain amount of chaos. I'm always game for a bit of mayhem. In other, entirely unrelated, news I think I have made a decision regarding my fitness challenge for 2015. More on that soon.
Hope you're all having an utterly splendid festive season.
See you next year
* Yes, I'm well aware some of the things mentioned in this post have been around longer than the last 12 months but this is my blog and so I can do whatever I like 🙂