Pablo Cheesecake object of desire?
…Ha, there's a post title I never thought I'd use
I had the weirdest experience last week. I was standing waiting for the the ever lovely MadNad to meet me after work when a car drove by and I got a wolf whistle. Stunned doesn't even begin to described my reaction. To give you some perspective, I'm not far off being 39 years old and in all that time this has never happened to me before. My first reaction was to check behind me to make sure that there wasn't a male model walking by and I was in his way. Just the oddest experience. What's the standard response to this? Should I be flattered? Based on the fact it has taken nearly 39 years to get my first wolf whistle I estimate I should be due another in approximately 2052. I want to know now how I should deal with it so that I'm prepared.
C'Mon Hollywood, Give Us A Break
I saw a link on a website recently that heralded that 10th movie spot for Man of Steel. 10TH!!! Isn't that verging on overkill. Don't get me wrong I am jazzed to see the film but if I watch all of these then I fear that sense of excitement will soon be gone. Listen up Hollywood, here's the deal. When your gargantuan marketing machines have a new film to promote how about you create just one trailer? All I'm looking for something that will entice me into the theatre. That's all I need. I dont think this is an impossible task. I don't want to see the whole fucking thing in three minute chunks spread over a six month build up. I just want one trailer, one poster and possibly a sneak listen to the soundtrack.
Actually while we're it it. If your trailer is for a comedy probably not a great idea to include one of the funniest moments in the trailer (I'm looking at you Hangover 3). As soon as the scene started in the film I knew exactly where it was going to end. Potentially amusing scenario ruined. Bit of a shame that. Especially when the film in question was so short on laughs.
You'll Get Square Eyes
I'm in thrall to the gogglebox. Always have been, always will be. Right now there are some absolutely splendid shows airing in the UK. I've become somewhat obsessed with my Saturday night fix of Scandinavian crime with Arne Dahl on BBC4. Sky Atlantic has given us and Game of Thrones and Banshee, both which are superb examples of their respective genres. Channel 4 have just started showing The Returned, which based on the first episode, is going to be a keeper. All of these shows are pretty dark but rest assured it's not all doom and gloom. Parks and Recreation is sublime comedy that started off slow but has become a weekly ritual in our house. I only wish I could live my life like a Scottish Ron Swanson. Truly he is a Renaissance man if ever there was one.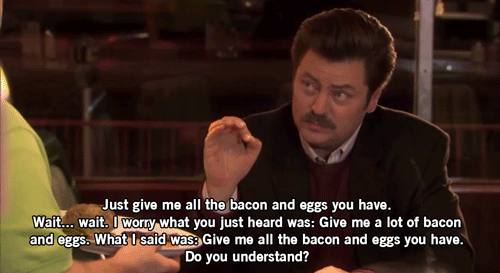 2013 Challenge Update
Its been a while so I thought I'd finish with an update for this years fitness challenge. So far in 2013 I've cycled six hundred and sixty five kilometres. Only another three hundred and thirty five to go! I reckon I can probably manage that. If anyone out there is taking on their own challenge. I salute you. Go for it and stay positive. If I can do it anyone can!
Right I'm off, till next time stay frosty amigos
Oh, before I forget my Pablo Does 40 Things website will be launching soon. Be prepared to follow the zany adventures of an idiot who has successfully avoided doing lots of things in the last four decades.